Posted by Josh Wolfe on May 8, 2021
This Merriam's gobbler came straight to the decoy with eight hens in tow. It was my buddy Jason's first turkey. We decided spur-of-the-moment to hunt together on a recent spring morning with no plan other than a general area we know houses good habitat.
A Colorado Merriam's Turkey Hunt
After parking at the head of a logging road and walking a half mile, we were dumped into a large meadow with a small cattle pond. In Colorado and many areas in the west made up of National Forest, ranchers are allowed to run cattle at certain times of the year.
We stood on the edge of the clearing just listening, watching the black sky turn light gray. Our initial notion was to simply set up on the treeline and see what happened. But that isn't how I like to turkey hunt. I like the freedom of movement. So I let out a hoot owl call and lo and behold, this gobbler sounded off about 400 yards to the west, the direction we'd walked in.
The Setup
We made good time getting across the fairly flat meadow to the other side where another small field sat. It was narrow and long, about 300 yards long and maybe 70 yards wide. That gobbler was roosted down on the other end. And I must say, if he gobbled once over the next 40 minutes, he must have gobbled a hundred times.
I gave a light tree yelp, he gobbled. A couple of Canada geese honked on the cattle pond, he gobbled. A woodpecker pecked wood… You get the point. This bird was hot.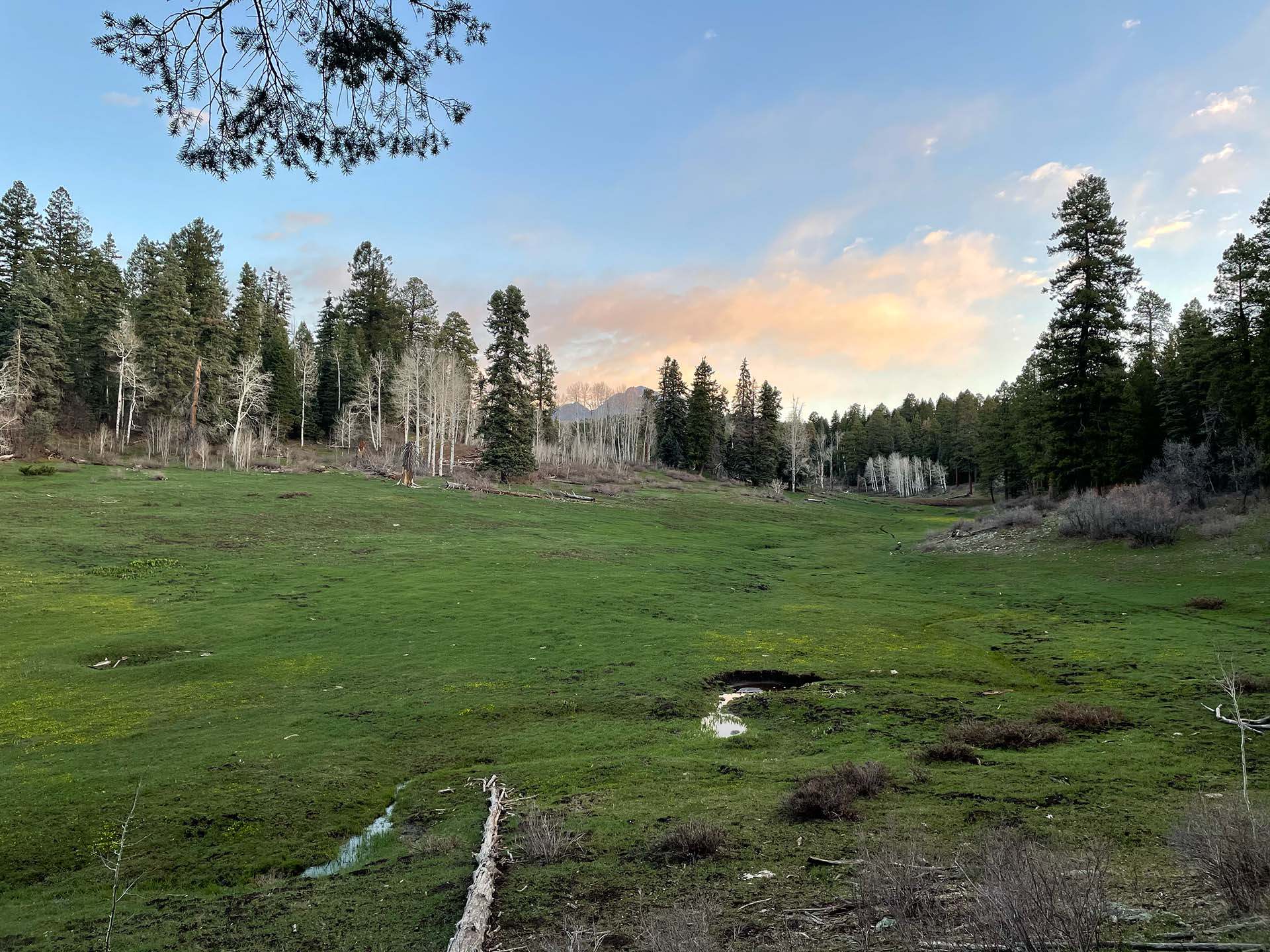 Looking back at our setup, we are standing near the trees where these Colorado Merriam's turkey roosted.

Jason and I quickly set up in a small cottonwood grove just on the north side of the long, narrow field. I eased down to the field's edge and placed Miss Purrfect XD in the looker pose before making myself comfortable against the trunk of a tree. Jason nestled up against a fallen log shrouded with branches for plenty of cover. I continued to softly yelp, mixing in some cuts and purrs to let him know a lady friend was nearby. It was only later I realized he had himself quite a harem.
Right to the Decoy
I've never been one to define a turkey hunt as "textbook." But I guess if I did it would be calling a bird in right off the roost, which is exactly what happened next. At good light I saw a turkey fly down, then another, then another. I heard yelping and was a bit quick to assume that the tom would have no interest in coming to meet me.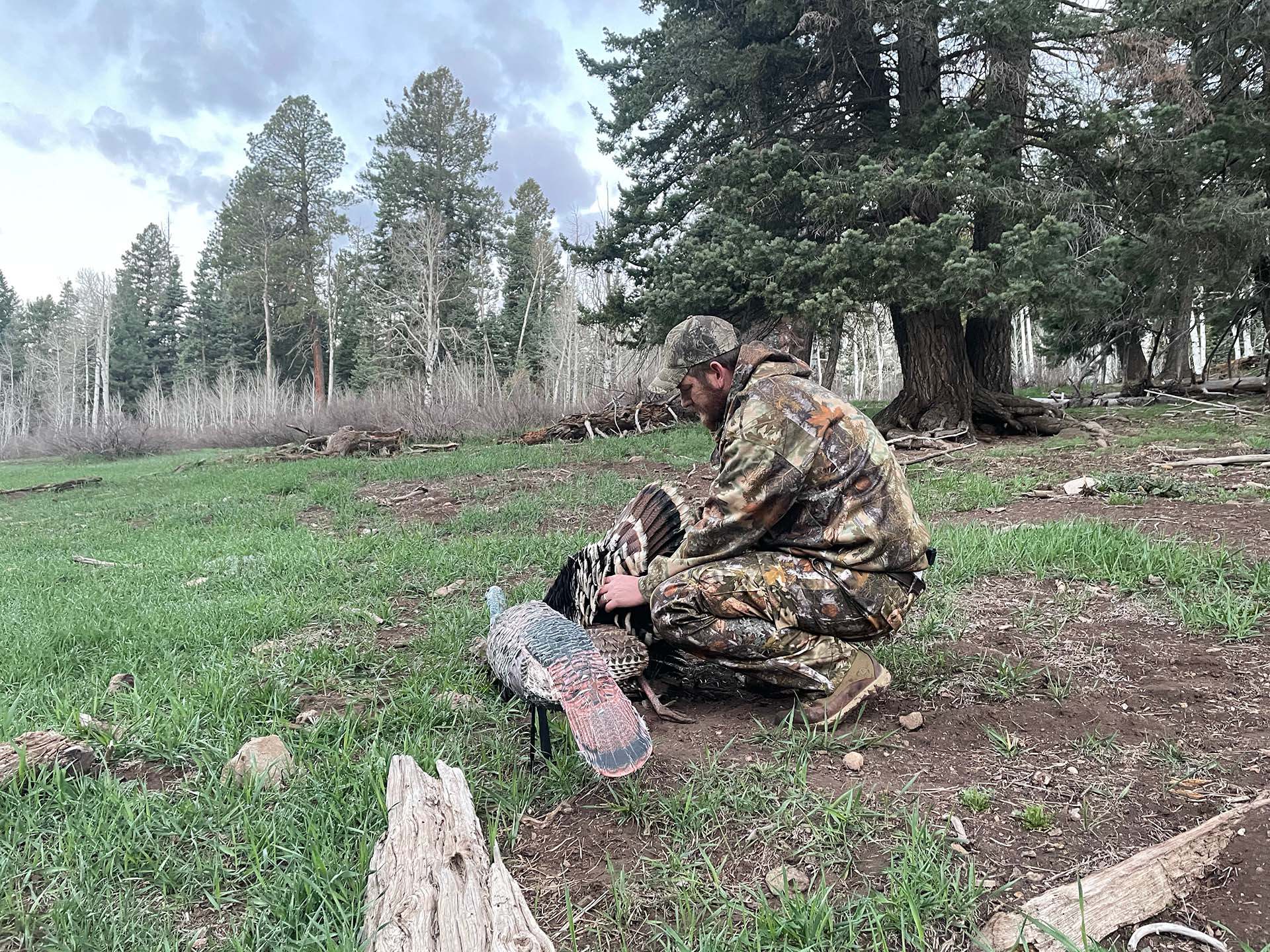 So I let her rip, the call I mean. I used every trick in the book to cause a reaction with the tom, sure, but also with the hens. I knew that if I could call the hens to me the tom would follow. But turkey hunting really never seems to happen like you imagine. I saw the tom first, his white fan like a small crescent moon over some brush in the middle of the field, making his way right toward Miss Purrfect.
Jason sat motionless with his gun laying across the top of the log. I whispered his name, more of a loud hiss, to get his attention that the birds were coming. He gave me a casual thumbs up, eased his gun off the log, and pulled it to his shoulder.
Providing a Visual
That gobbler came running in with his hens in tow. Jason shot him at 15 steps as he approached Miss P. Maybe the decoy ultimately did it. Maybe greed got the better of him. But I believe wholly that had we neglected to put out a decoy and therefore not provided a visual to the calling, he may have stayed henned up at the other end of the field.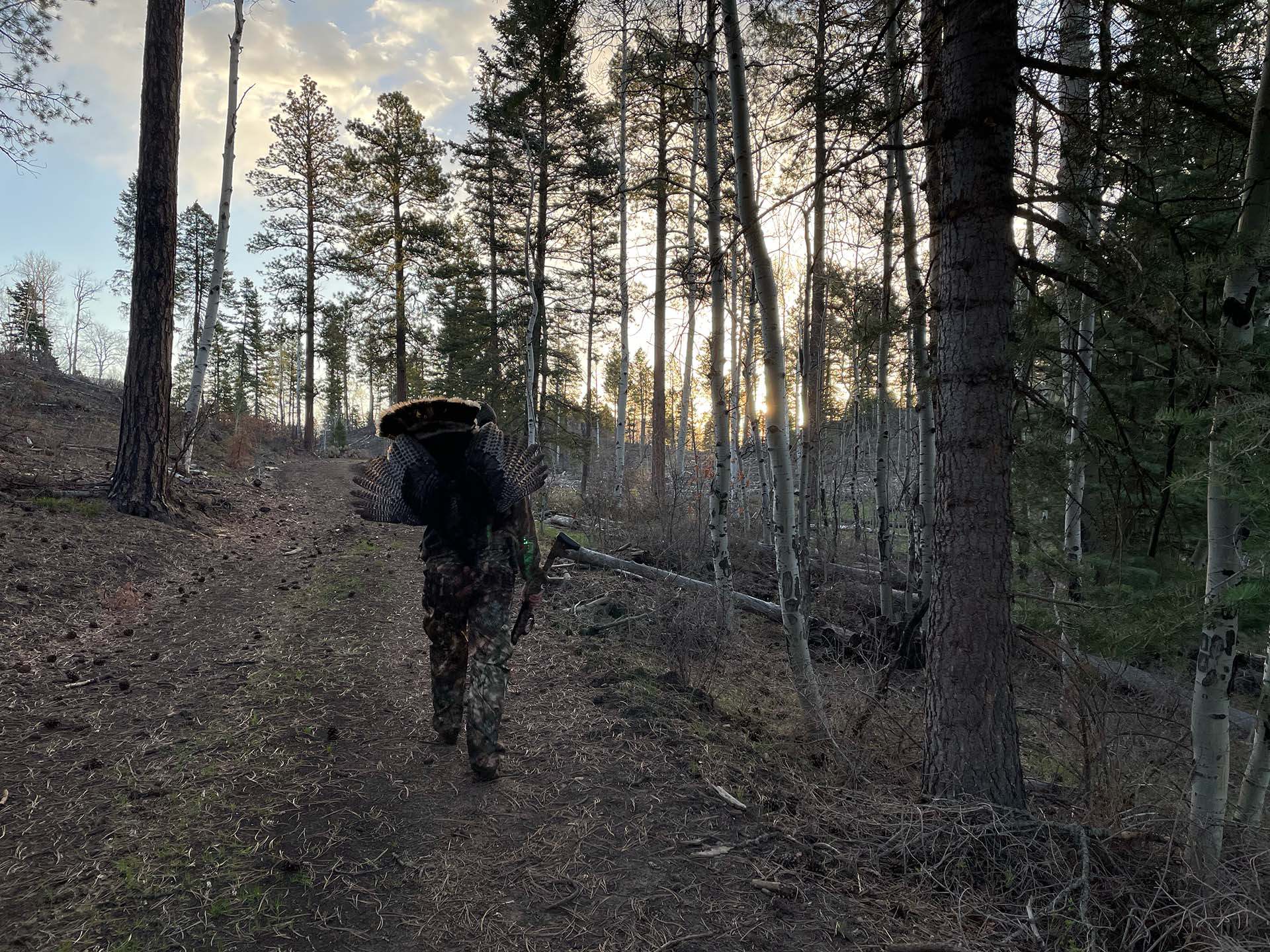 I hunted my tail off and got it kicked my Merriam's in South Dakota recently. So to come home to Colorado and have this bird flopping just shy of 6:00 was pretty spectacular. My first successful Merriam's hunt, Jason's first turkey, and all that several hours before we were due at work. Not a bad way to start the day.