Posted by Mark Kayser on Aug 2, 2022
Few hunting strategies and tactics work perfectly alone. They require the power of human conception and planning to meld into the ideal ambush. Occasionally, a single tactic of a hunt works wonders. But a better approach is to use as many tools as are available in your hunting toolbox.
Think about turkey or duck hunting. Calls help perk curiosity and confidence. But when the quarry views the perceived maker of the conversation, a decoy, it can seal the deal. Public-land elk hunting offers a consummate example of bringing a full toolbox along for success to seal a difficult deal.
Fool the Senses
Elk hunting requires you to fool an elk's nose, ears, and eyes. That sets a high hurdle for the average public-land hunter. You can fool an elk's nose by staying downwind, using scent elimination products, and even dispensing elk urine as an attractant or cover. You can fool an elk's ears by using quality elk sounds and perfecting those exchanges in the offseason. Finally, you can fool an elk's eye by deploying a true-to-life decoy that makes an elk believe it hears and sees a fellow ungulate.
Montana Decoy manufactures five different models of realistic elk decoys.
Hunters look to Montana Decoy for their expertise in producing products for the rigors of public-land elk hunting. Backcountry bowhunters appreciate the feather-light Back Country Elk decoy. It weighs less than nine ounces. The Back Country Elk decoy is a rump model that provides a glimpse of another elk in the woods to cement your other devious tactics.
Make it Believable
Some of the best advice I ever received from a seasoned elk hunter was to get into the mind of a bull elk and then create a situation that bull would likely believe. Your education on what a bull is thinking starts with long-range speculation. Listen to it bugling, the intensity of its return bugles to you, and its promptness on answering your calls.
An elk that responds back almost too quickly and increases its anger on every response has calling and decoy potential. A bull with subdued responses could be a waste of time. But on public lands, you never should walk away from any elk. It could be subdued due to its timid nature or age. It also could be subdued because it has a herd of cows with it and does not want competition from other bulls.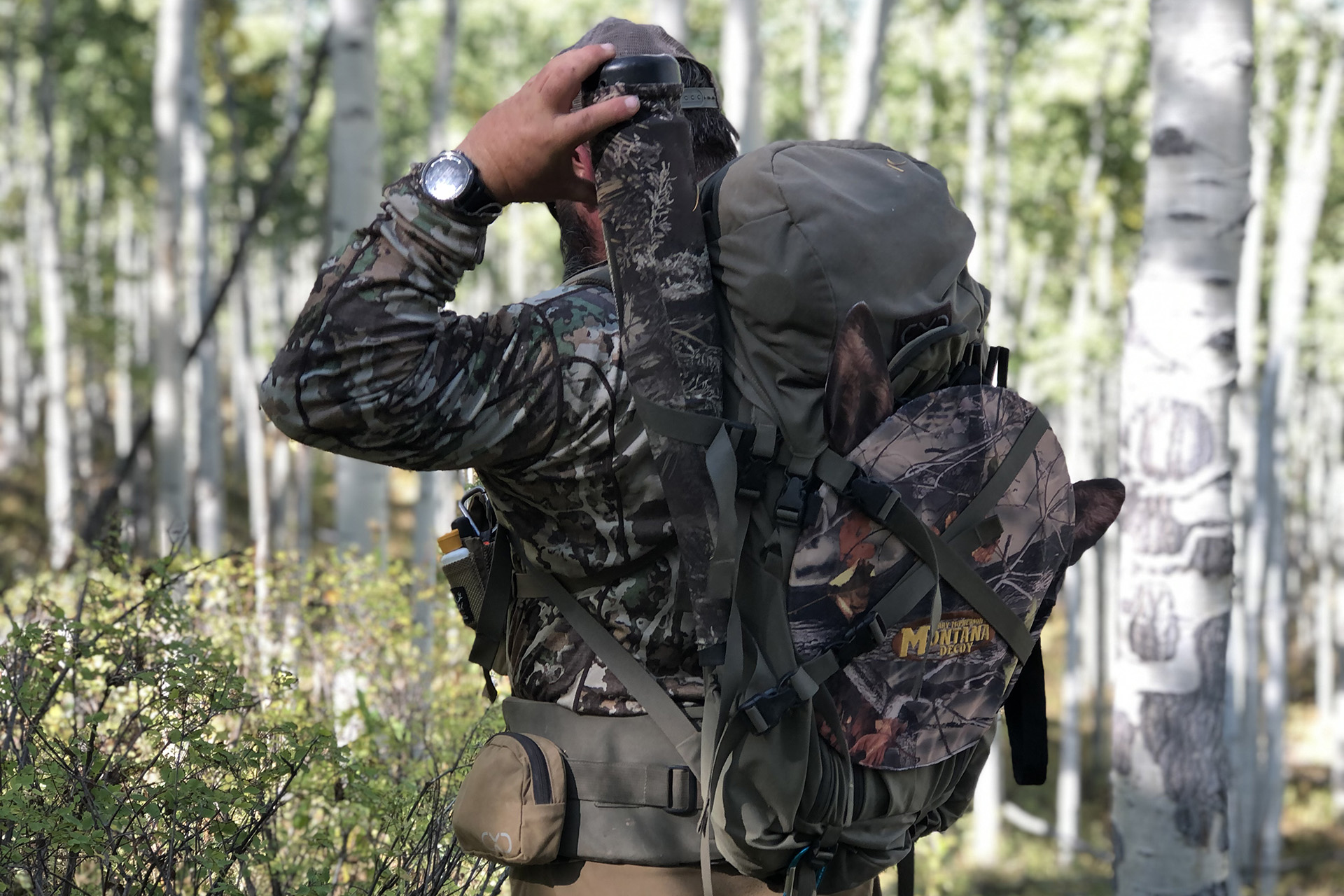 Get into the mind of a bull elk and then create a situation that bull would likely believe.
Deploy a Turkey Tactic
The next step is closing ground and after that I take a tactic from my turkey playbook. I want the elk to look for me. And I do not want the game of hide-n-seek to be too easy.
Think of that when you search for a site to set up. Setting up in too open of country allows elk to see where sounds may be coming from. Even with a decoy, they may hit the brakes with an idea of making the decoy come to them.
Thick junipers or pines prod an elk to move closer and use its nose and eyes to find the elk it believes it heard. While this may work, don't recline in the La-Z-Boy just yet. As a bull hunts for you, it will undoubtedly begin a downwind swing so you should adjust your ambush point to ensure the elk does not get to a point where it might catch your scent.
If you have a partner, put some space between the two of you, 100 yards or more. Then have your partner call and decoy as you tag along downwind at distances appropriate to the habitat you are hunting. It is a delicate game of cat and mouse, but you can win by staying one step ahead of the stalking bull.
Keep Calm
In addition to hunting terrain that nudges a bull into hunting you, always be careful to dial your enthusiasm back. Particularly if a bull suddenly goes quiet. Public-land elk receive unequaled pressure and if you continue to call to a bull that was showing acceptance, but suddenly went quiet, a wise tactic is to play their game.
You and your partner can separate so you have a downwind shooting advantage during this quiet time. Or you can stake your decoy upwind, spray some elk scent in the area, and move downwind when you find yourself hunting solo. Regardless, let the woods calm down and after 30 minutes or more, the bull could sneak in without a whisper to track down the earlier calling commotion.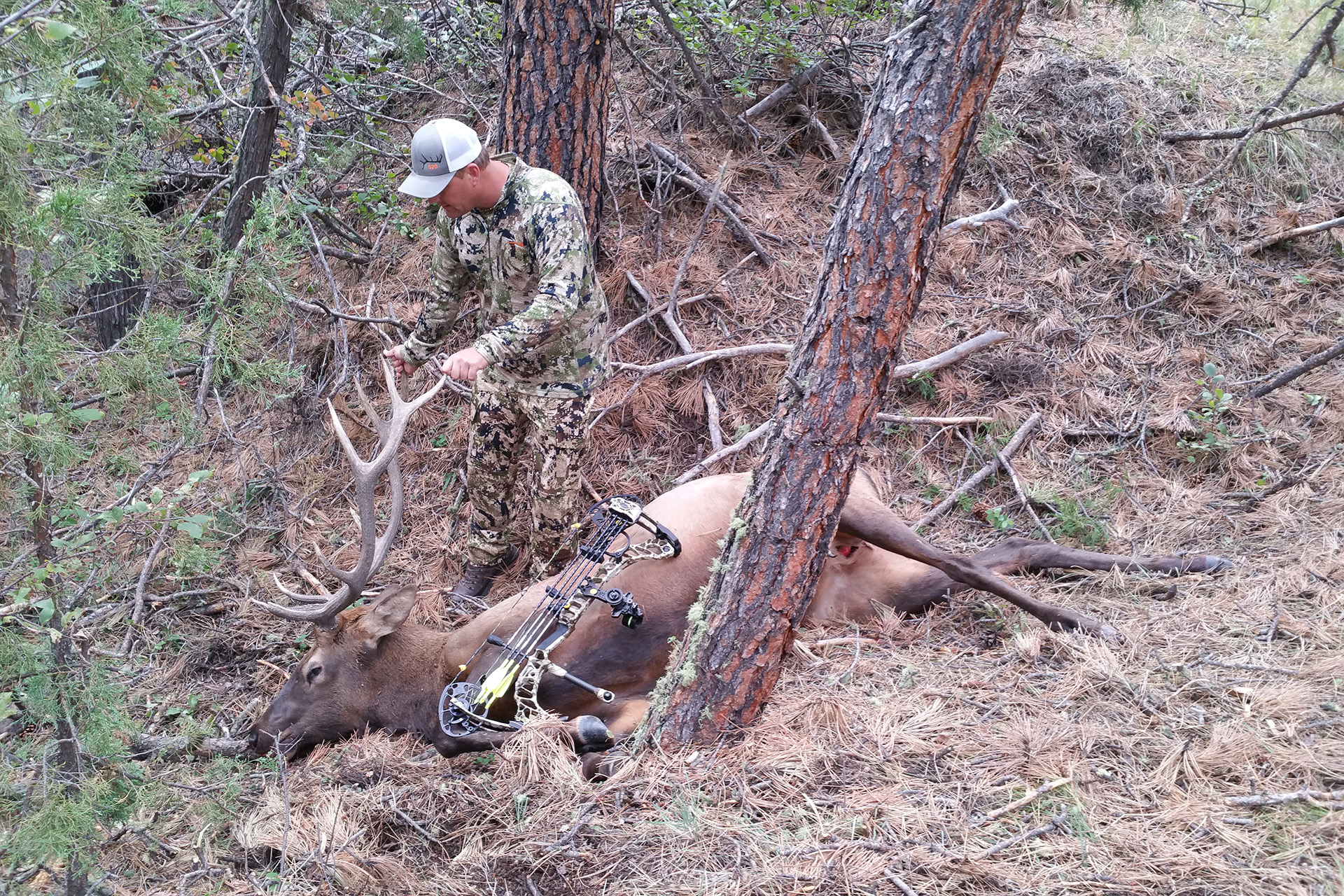 It is a delicate game of cat and mouse, but you can win by staying one step ahead of the stalking bull.
As a safety reminder, Montana Decoy products are designed from real images making them difficult to distinguish from the real thing. It is advisable not to utilize them during a firearm season. Even in archery season you could fool another hunter. If someone does approach your decoy, announce in a calm, clear, and loud voice that a hunter is present.
As you contemplate a strategy for archery elk hunting this season, consider a team of tactics. Your calls and scents will coordinate greatly with the addition of an elk decoy to your hunting party.