Posted by Dale Mannasmith as told to Josh Wolfe on Nov 11, 2020
When the buck popped out into the bean field 95 yards away, I knew he'd already seen Estrus Betty deer decoy. In fact, he was locked onto it as he began walking my way. He moved farther out into the field, trying to half moon my set up to get down wind. It took him about five minutes to cover 60 yards, putting him within my range.
When I drew back my bow, my heart rate was jacked. At the same time I was absolutely confident in my ability to make the shot. I shoot every day, sometimes competitively. When he turned fully broadside, still looking at the decoy, I was settled, calm, and I touched off the shot.
Back at the Beginning
This story really starts back in my childhood when my dad bought 52 acres for us to deer hunt on. You might say it was the spark that ignited this obsession with hunting that is now the sole center of my universe. When I tell you that I live to hunt, I mean it quite literally.
Ohio has a long and storied hunting heritage. Thanks to agriculture and stringent deer hunting laws that mostly favor the archery hunter, Ohio is known to grow some really, really big bucks. When dad got the deed and the property became ours, so began this infatuation with bow hunting that ultimately shaped the way I live my life. After quitting my job as a traveling salesman, I decided to take a leap of faith and make bowhunting my career as well.
Today, my brother-in-law Matt and I are the proud owners of Attaboyz Archery shop in Marysville, Ohio. After becoming fed up with gun stores that have a small counter where you might get your bow tuned and some arrows fletched, we recognized a real need for a shop focused on archery. So far it's paid off in several ways, namely, I get to hunt… a lot.
From A Spindly Looking 2 ½ Year Old
I first saw the buck back in 2017 when he was a weird and spindly looking 2 ½ year old. He just had this super odd rack that I wasn't so sure would amount to much.
In 2018, when I saw him for the second time, he had matured and filled out nicely. In fact, the mass he'd gained in one year was insane. He was a stellar 3 ½ year old.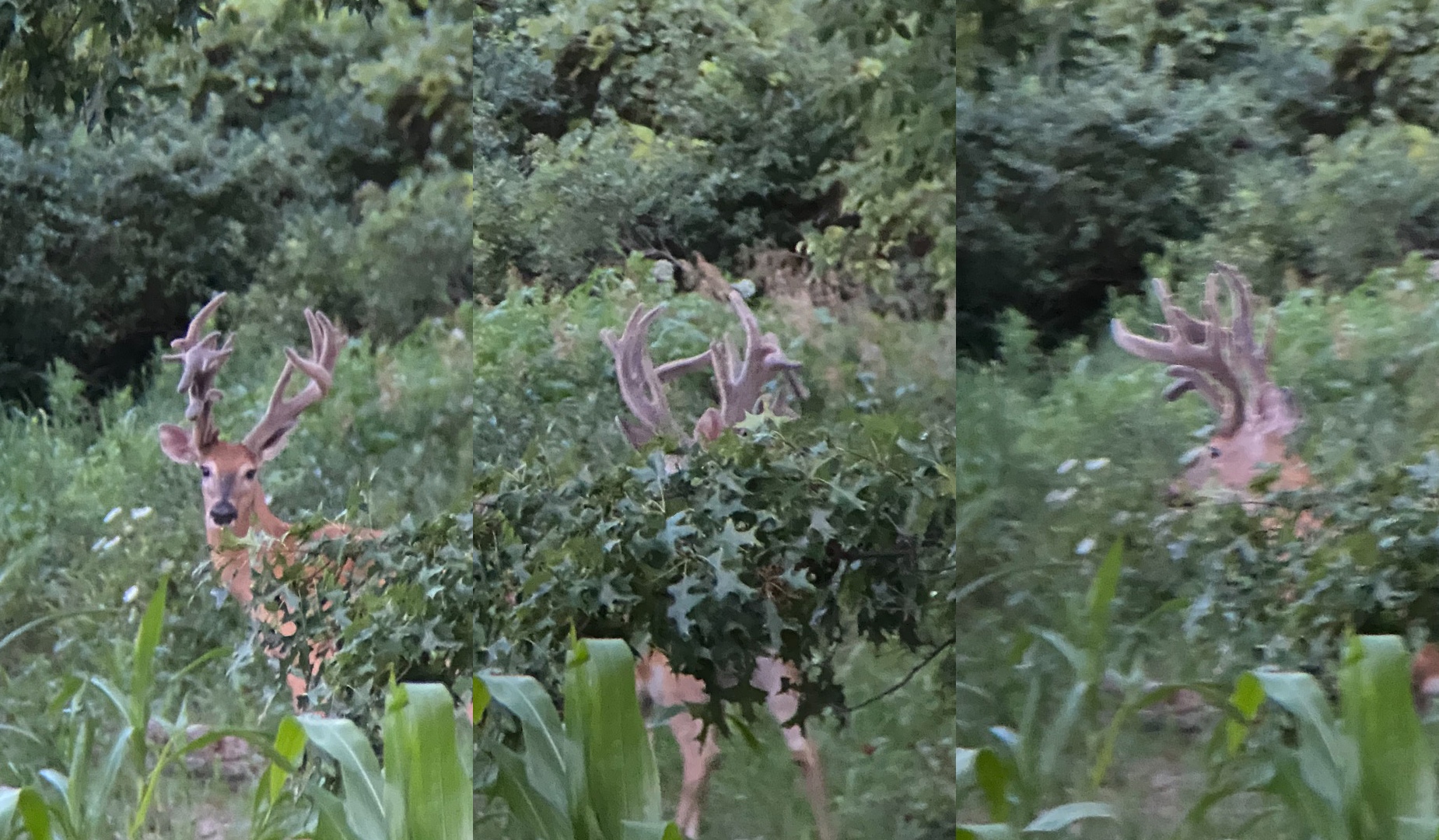 He was out in a bean field chasing does. Besides his rack, another thing that stood out to me was a huge scar on his back. He'd obviously survived an attempt by another hunter to put an arrow through him. It was my hope the next hunter he'd encounter would be me. Of course, that hope dwindled when I never saw him again that year. Even more so when he was nowhere to be seen the following year.
The Second Coming
I was riding around one evening this past summer when a really nice buck crossed the road a little ways in front of me. When I came to the spot where he'd crossed I stopped. There he was. Standing in the edge of a corn field, thinking he was hidden. What this buck couldn't comprehend was the sheer size of his own rack and how it stood up over the corn like a crown. Man, what a deer, I thought to myself.
And of all the times I've left my DSLR camera at home, this would be one of them. Regardless, I was able to line up my cell phone with my binoculars to record some pretty good photos of him. I knew that would be the best opportunity to get a look at him before the season began. In that particular area I only scout it from the road. I don't even hang trail cameras there. It's a big buck hotspot that I'll only enter when I'm going to hunt it, and that's usually during the rut.
Opening Day
It was so unbelievably foggy that morning. I'd waited a bit for some daylight to appear before making my way to the treestand. What's so great about this area is that it's surrounded by agriculture and bedding areas. My stand is on a fence row that runs down the middle of a big ag field - this year beans - and has woods surrounding it.
As I eased through the fog, I could just make out three bodies up ahead of me. Instinctively, I quickly knelt down into the beans. One of those three bodies raised his head, and good grief, it was him. Even through the fog I could tell he was a definite Booner. And to demonstrate how thick the fog really was, I eased my rangefinder to my eye, clicked the button, and nothing. It couldn't penetrate. I tried three or four times to no avail. My brain told me he was in range, that I could make the shot. But my heart told me to pass on the chance. Wounding a buck like that would simply not be worth it. When the three deer finally meandered off, I headed to my stand though he didn't show himself again that day.
Showtime
There are two things that I enjoy most about owning my archery shop. One, I'm providing a service to the bowhunting community. Everyday I get to go to work and swap stories and talk about deer hunting. When I said I live to hunt, I meant it. If I'm not in the woods, I'm living it with people through tips, tactics, and tales. Second thing is, I get to set my own hours, which translates into I hunt a lot. The way I see it, in order to be great at my job, I need to live that lifestyle.
So two weeks later I'm back in the same stand. Scrapes are showing up everywhere. There's one directly beneath my tree. We're getting super close to the rut.
I look left down the fencerow and here he comes, on a line that would bring him directly under me. Probably to check the scrape. Except that's not what he did. At 80 yards he redirected out into the beanfield and crossed to the other side where he made scrapes, as I watched, until dark.
I sat for a long time that evening, waiting for him to leave the area so I could run over there and dump a bunch of urine into the scrape. In fact, knowing it was about to rain, I poured out a whole bottle. I needed something to distract his senses. The urine would help with smell, but it was time to get his attention visually as well.
A few mornings later, I'm rushing back to the same stand where the fog beat me on opening morning and the buck turned unexpectedly out into the bean field a few nights before. I'm rushing because I'm late. I'm late because I stayed up most of the night before trying to fix the tripod plate for my camera so I could film the hunt. I was not successful.
However, I did have a couple of deer decoys in my pack that I'd planned to use that morning. Specifically Estrus Betty and Dreamy Doe. The general consensus in my area is that you don't use deer decoys until the rut, which was still about a week away. But a gut feeling told me it was time. I'd seen this deer twice now in the same area, once on opening morning and then again a few evenings before, and figured he was still hanging around. Plus, there were scrapes that I'd watched him make that I was certain he'd return to check.
Again, my stand is on a fence row that runs down the middle of a big bean field with woods surrounding it. As you'd walk to it from the road, I'm facing the right half of the field. So I set up Estrus Betty on my left (in case he entered the left half of the bean field) and Dreamy Doe on my right (in case he entered the right side) to give this buck something to look at from both directions.
It was good light when I climbed into the stand. After letting things settle a bit, I began rattling and grunting. Nothing. So I decided to give it a little time before I tried again.
After the second series I looked back over my left shoulder and there he was, standing in the field just outside the woodline at 95 yards. You know what happens next. His half moon, trying to get downwind, put him within a range that I felt fully confident I could make the shot.
The buck piled up after only 40 yards. The shot had been perfect. He ducked the string, which opened him up toward me even more and that arrow could not have been more true.
Had it not been for Estrus Betty, he probably would have meandered out in the bean field and moved on to check other scrapes. Without a deer decoy, I probably would not have had a shot opportunity at this buck. My season is made. The journey with this deer, which scored 185 by the way, is a complete story that I'm grateful I got to see unfold from beginning to end. I can't wait to share it.