Processing your own wild game can be a daunting task. But the investment in time and education will pay dividends with the increased yield and reduction in cost at the butchers. Processing your own wild game also connects you to all the steps from field to plate. There is no greater feeling than sharing your success in the field with others by feeding them a dish you harvested, processed, and prepared.
When Processing
The first step is to gut the animal, take care not to puncture any internal organs like the stomach. Gutting the animal keeps the risk of contaminated meat to a minimum and starts the cooling process. Getting your game cold fast is crucial for food safety and meat quality.
If you are in a cold enough area to hang the animal whole or quartered, do so. If you hunt a place that isn't at or below 40 degrees, a refrigerator or cooler with frozen water bottles will work. We mention water bottles because the water from melted ice will waterlog the meat. If you have to use ice, take care to drain the water and change the ice frequently.
For simplicity's sake, we are using deer as the game animal. One caveat about deer versus other game is that deer fat is waxy and metallic tasting. Spend time removing as much of the visible fat and silver skin as you can. Add beef or pork fat later during the processing steps to create a juicy burger or sausage.
The equipment involved in processing a deer is the same that you would use on any other game animal. Speaking of equipment, we've included an essential list of items needed for processing your own game.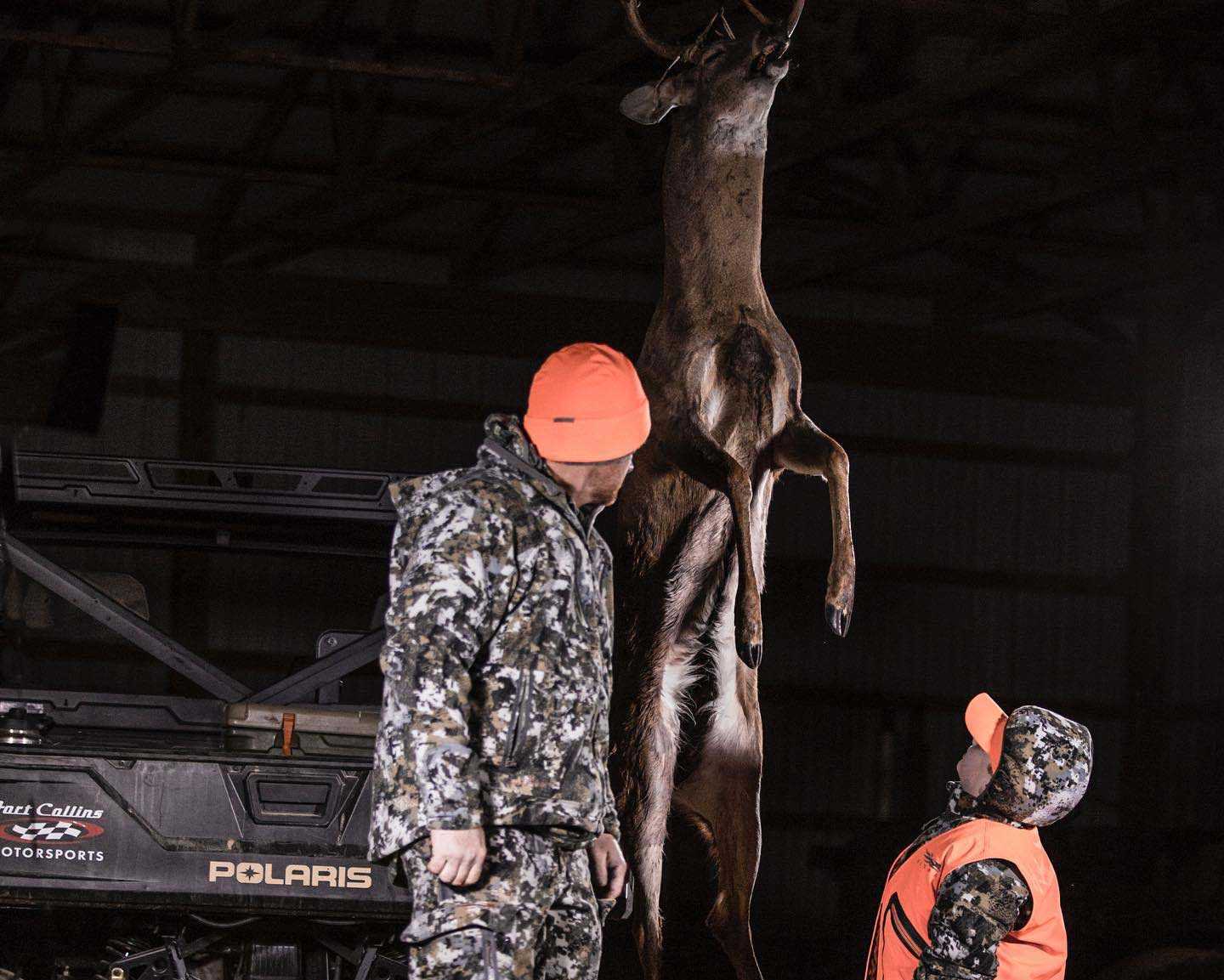 Processing wild game can increase yield, reduce butcher costs, and give you a closer connection to the meat you eat.
A Hoist and Gambrel
A gambrel is a device for hanging a deer by its hind legs for processing. The hoisted gambrel allows you to work more naturally and keep the meat from ending up on the ground. Since this will be your work area for the near future, we suggest setting up your gambrel and hoist in an area that's easy to clean, like a garage or backyard.
A Skinning Knife
A stout-bladed skinning knife is needed to remove the skin from the deer. If sharpening isn't your strong suit, purchase a replaceable blade model like Kershaw Lonerock. While you can certainly invest in more knives for different types of game, a skinning knife will do nearly everything a hunter needs when it's time to butcher a deer.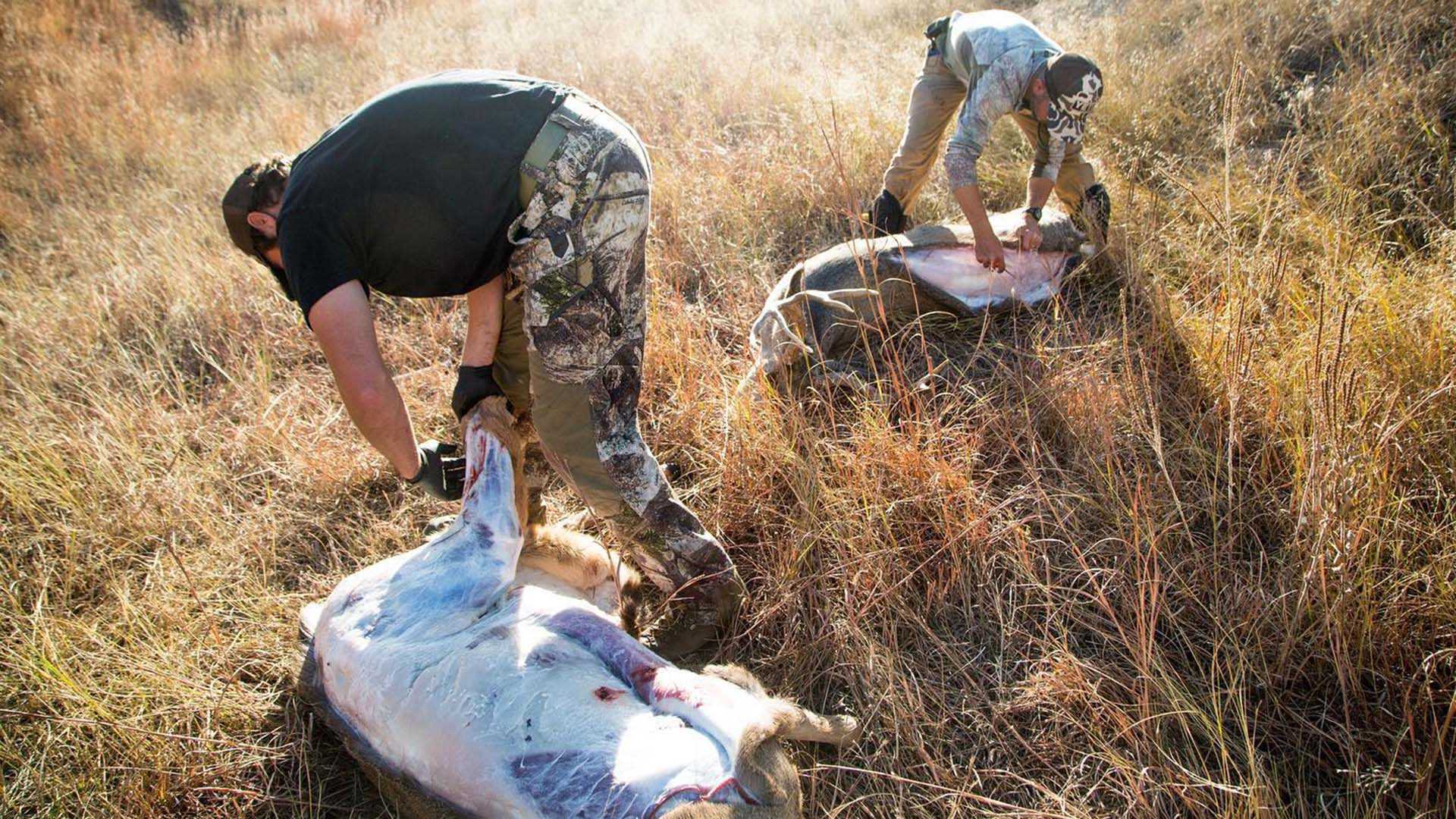 A good skinning knife will do nearly everything a hunter needs when it's time to butcher a deer.
A Hacksaw
For separating bone-in cuts of venison, like shanks for osso bucco, there's no better tool than a saw. A handheld meat saw is a lightweight, cost-effective method of processing deer. A powered Sawzall will save your arms some energy if you plan to butcher multiple animals.
A Grinder
For end cuts, accidental cuts, and cuts that don't do well as roasts or steaks, a grinder will turn your pile of meat into a pile of burgers. Small personal grinders can be picked up for less than 100 dollars, but we recommend spending a bit more for a sturdier product.
Personal Protective Equipment
When working with wild game, you should take steps to minimize any risk of infection. Wear gloves when gutting, skinning, and processing wild game. If you end up cutting yourself, take the time to clean and bandage your cut correctly, we don't want anyone getting sick from a kitchen accident.
Storage
It's important to have your storage products available before you start processing. Make sure you have clean vessels to hold your meat cuts before packaging or grinding. When storing your meat long-term, you can always choose butcher paper or ziplock bags.
However, vacuum sealers are really the best option for packaging wild game for freezing. Regardless of how you pack your meat, make sure to label what it is and the date it was packed. Labeling will keep you from pulling out the wrong package while reducing freezer-burned food.
Now you have a great entry point on how to start processing wild game. Find a process that fits your style and start committing it to memory. Gather your gear and select your new game processing area. The only thing left is to harvest the animal of your choice so you can put your new skills to work.