A few years ago I got invited on my first elk hunt. I flew to Denver by way of Columbia, South Carolina, then rented a car and drove south to Raton in northern New Mexico. I knew the success rate on the ranch was pretty high because they only hosted about five hunters a year. What I didn't know, nor think about, was how I would eventually get the meat home should I kill a bull.
My hunt ended on the fourth afternoon when the recoil of my Remington 700 in .300 RUM rattled my teeth and jarred my shoulder (I haven't fired that rifle since). The old bull died in the tail of a canyon back in the a dark entanglement of timber and it. It took three of us several trips to pack the meat out.
The thing I didn't really account for was getting the meat and mount back home to South Carolina. Lucky for me there was a processor out of Dallas that cut a wide swath in a refrigerated truck out to Oklahoma then southwest to New Mexico and finally back around to Texas making pickups. A maintenance guy on the ranch was a top-notch taxidermist so there was that. Unlucky for me was the sheer price I paid to have everything shipped back east.
That elk meat lasted my family and me, and hordes of friends and hangers-on, for about a year. We ate like kings on every cut you can imagine. The mount arrived in a box tall enough to allow me to stand straight up inside of it. In fact, we turned it into a comfortable shooting house. But I wonder, if the opportunity arises again, how much money I'd save by driving instead of flying.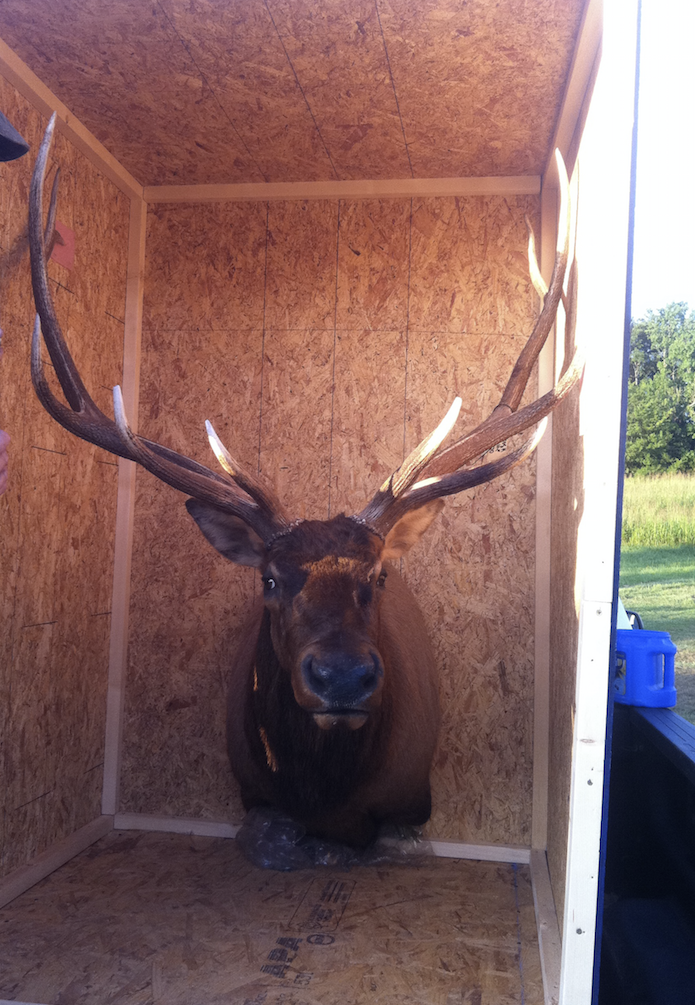 The bull arrived in a crate large enough that it was turned into a shooting house.


Flying
Apparently there's not a viable option for checking antlers on the plane. United Airlines allows you to bring them on, but their stipulations are as follows:
"United will accept one set of antlers or animal horns per ticketed customer. Antlers are subject to a $150 service charge (each way) per item for travel between the U.S., Canada, Puerto Rico and the U.S. Virgin Islands and a $200 service charge for all other travel. This charge is in addition to any excess baggage charges that may apply."
United also takes aircraft and antler size into consideration. The dimensions (L+W+H) of your elk can't exceed 120 inches, which is a scrub bull. That is hardly a good deal. In my case, being able to deal with a local taxidermist was really a blessing despite the shipping charge.
While flying with meat is not quite as difficult as antlers, it's still going to cost you. Airlines have a weight limit of 50 pounds, and most are going to charge unreasonable baggage fees. Then, unless you do it all yourself, you'll have to pay to get it processed at home. The only other option is having someone local to the hunting area process your kill. This will save you the hassle, but they'll charge a processing fee of close to one dollar a pound and nearly four dollars a pound to ship, and that adds up quickly.
Driving
If I ever go back out west to hunt big game, I plan on driving. The road trip can be a weary experience, especially on the way back, but for the price of a few tanks of gas, food, maybe a hotel room, ice and/or a portable freezer, this is the most cost-effective method for getting meat back home from the hunt. If you Google "portable freezer," you'll find an array of options, most of which will fit nicely into the back of a pickup truck.
In essence, this is all part of the western big-game hunting experience. These adventures sometimes take years to plan and the most important part, getting meat home, is sometimes overlooked. Consider taking a few extra days which will allow you and hopefully a buddy to make the trip by vehicle. And traveling with your firearm or bow? Well, that's a blog for another day.