There are major benefits to hunting deep in the backcountry, penetrating remote wilderness, and creeping into barren deserts. The advantages are psychological, strategic and financial. Off the grid, there's still a place for the guy who likes to earn his trophy, rather than pay for it.
In this article, we provide tips on where to go, what to take, and tips for success.
We know that hunting in the backcountry can be physically and mentally taxing, and most of your time will be spent huffing up and down mountains in search of elk. By packing less, and therefore conserving energy, you can maximize your efforts to make the trip worthwhile.
Public Land Hot Spots for Elk
For many outdoorsmen and women, elk hunting is often the first thing that comes to mind at the mention of "western hunting." Chasing the famous wapiti has become a legendary pursuit that the great writers and pioneers of western hunting have ingrained in our minds. Your typical youngster starts with a whitetailed or mule deer, and your seasoned vet might end his career on a giant bull elk. But getting to that point could, as mentioned, take a lifetime as even some of the best units in the following states don't always yield results. Such is hunting.
If you are a non-resident looking for a trophy bull, be prepared to wait many years to build enough points to draw a tag in an area where they are plentiful. Then you can either spend a lot of money paying an outfitter or plan a DIY elk hunt on public land. The latter option requires work, but only makes the reward so much sweeter. Prepare yourself to trek into terrain that will make others turn around. As for the best hunting tips for elk, we can stress enough the benefit of going beyond the crowds. Your fellow hunters are essentially the competition. And while you should root for anybody to ethically harvest a fine elk, the mere presence of humans is going to drive herds deep into the mountains. That's where you must go.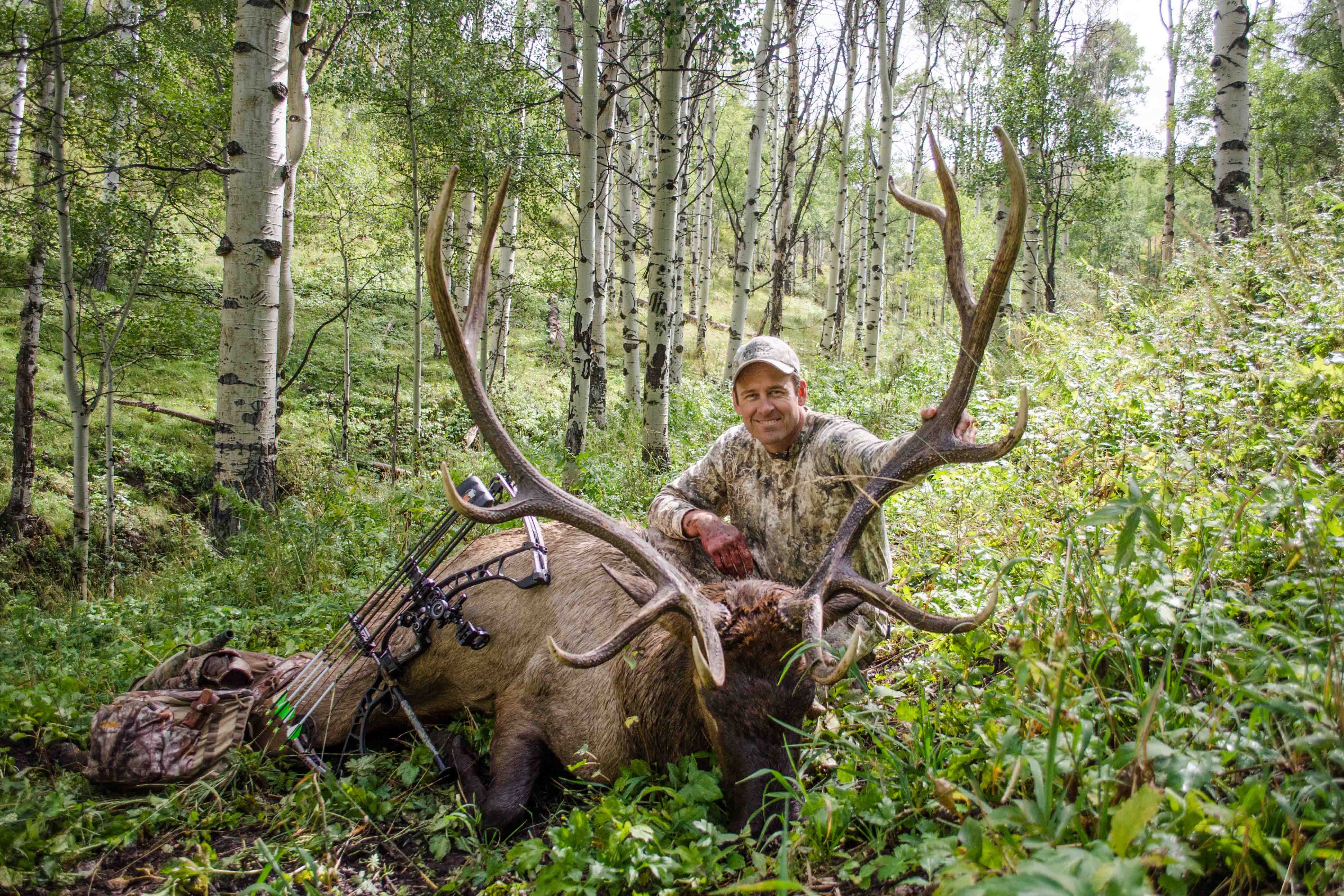 A sound knowledge of the area you are planning to hunt is paramount. It will take research, scouting, and backup plans for the backup plan. Here's a primer on the best areas where over-the-counter (OTC) elk tags are easy to come by, terrain is harsh enough to allow bulls to grow big and hunting pressure remains fairly low.
Colorado Public Land OTC Elk Hunting
Colorado is divided up into hunting areas called game management units (GMUs). And since the elk population continues to thrive in the Rocky Mountain state, over-the-counter elk tags are easy to get. Because tags are so accessible, the hunting pressure can be higher than any other western state. However, if you're a serious bowhunter, there's a good chance you thrive on overcoming that pressure. Hence the drive to go farther than your competition.
That's why having a sound knowledge on your hunting area is so important. First, you have to know the boundaries of the unit. There are no "accidents" when it comes to traipsing across boundary lines into other units, or worse, private land; even if you legitimately think you're in the right spot. Using the Hunting GPS Maps system onX is super helpful, as is making a preseason trip to scout. OTC elk hunting tags will go on sale early August.
Before you even start researching, you have to be honest with yourself. Are you ready for a Colorado backcountry elk hunt? Do you have the basic gear? Are you physically fit? Do you have the mental toughness? These answers will help you determine where to plan a Colorado DIY elk hunt, and where to focus your research. Once you know the answers to these questions, read our article on the best OTC Colorado elk hunting units.
Oregon Public Land OTC Elk Hunting
Oregon is home to two varieties of elk - the Rocky Mountain elk in the eastern part of the state and the Roosevelt's elk near the Pacific Coast, in the Blue and Cascade Mountain ranges. The state is divided into wildlife management units that collectively span millions of acres. OTC elk tags are available in just about every unit.
Many hunters head to Oregon every year in pursuit of a Roosevelt's elk because they are the largest of the four subspecies. Named after one of our most adventurous presidents, Teddy Roosevelt, focus your attention on the Siuslaw and Alsea units in the Siuslaw National Forest where the population thrives. This area is rich with those elements, dense timber and steep mountains, that make the Roosevelt's elk particularly hard to hunt, making the reward for a successful hunt pretty great.
Unlike Colorado, planning the best DIY elk hunt in Oregon relies less on research and more on strategy. The Roosevelt's elk favors a disposition you'll see in whitetail deer. They are far less nomadic than their Rocky Mountain cousins and will follow somewhat of a pattern until hunting pressure drives them elsewhere, just like a whitetail.
Go scout, if you can. Locate areas with fresh sign, find a well-concealed spot, and plan to sit and wait when the season rolls around. For the DIY bowhunter, one of the best tips for hunting elk in Oregon is put in the legwork before the season. Put less time into research (there is not much information out there anyhow) and more into scouting. The archery season runs from late August until late September.
Idaho Public Land OTC Elk Hunting
Idaho is divided into 28 elk zones that each consist of one to nine hunting units. The Gem State is almost the exact opposite of Colorado in terms of elk and hunter numbers. But this is by no means a deterrent to hunt Idaho. Fewer elk meaning fewer hunters meaning less hunting pressure and more forest to yourself. It's pretty great to roam around the backcountry for a week and not have to encounter another human outside your party.
The statewide success rate on elk hunts is about 20-25%. This is partly due to the lower numbers but also because many hunters don't get far enough from the road. They prefer easy access, which we will say again, is the exact opposite approach if you want to up your chances. To be perfectly honest, the real work begins when you have to quarter and haul a bull out of the mountains. But it's a labor of love like you'll only experience a few times, if that, in a lifetime. Year after year, Unit 66A sees a success rate on bulls that is hard to argue with despite both a large number of nonresident hunters and wolves. With almost 172,000 acres, most of which is forest, this OTC Idaho elk hunting unit produces some of the larger bulls harvested in the state each year. But be prepared for a feast or famine type hunt, where you could go four days without seeing a single elk only to unexpectedly stumble on a number of good bulls on the fifth. That's why we always carry an elk decoy during the archery season, no matter where we're hunting. You just never know when you'll need to draw an old herd bull away from his harem.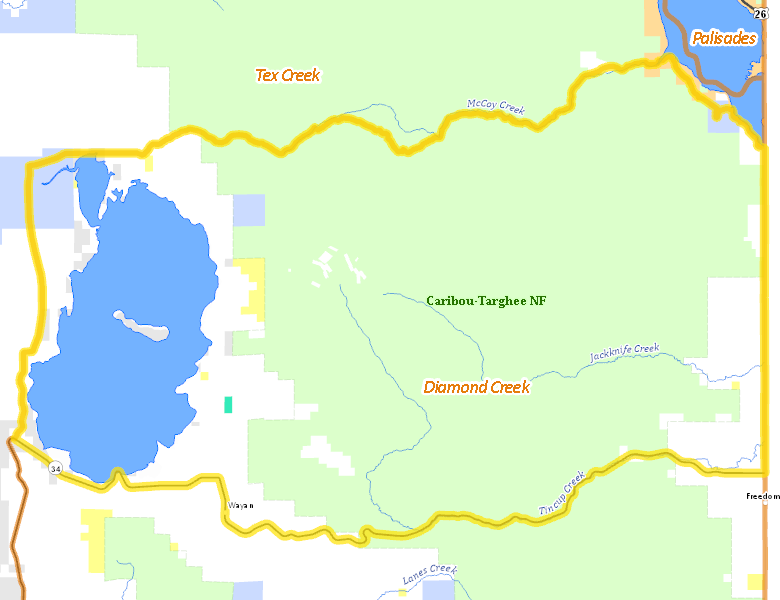 Public Land Bowhunting Elk Decoy Tactics
Bulls will begin to round up cows in mid-August. He's hoping that she'll pick him as a breeding partner once she's ready to breed. It is a perfect time for elk decoying tactics.
To appeal to all the senses of a mature bull, combine calling, scents, and decoying tactics. In the early season, use cow elk scent, though not cow-in-heat because it is used in a limited period during the rut. Also, keep handy a cow call.
Your setup will vary on whether you are hunting timber or meadows, but the basic idea is to lure the elk past your shooting lane while he is focused on the decoy and not you. What decoy you use is personal preference, but any of the choices we offer work well in just about all situations. If you are covering a lot of ground, the features of the new Eichler Elk decoy make it even easier to carry and set up when time is a concern. As does the Back Country Elk, which is super lightweight. In dense cover, the broadside pose of the RMEF Cow Elk increases the chance a bull will see it among patches of thick timber. The relaxed and confident feeding pose of Miss September can work to your advantage on public land where hunting pressure is high and the elk are call shy.
Elk Decoys to Pack
Decoying elk has become vital to success for the DIY elk hunters in the states above. Whether it's the hunting pressure in Colorado, the thick timber in Oregon, or the wolves in Idaho, calling elk is tough. The Eichler Elk decoy is perfect for public land bowhunters chasing bulls in hard-hunted country and demanding terrain. Other elk decoys you will want in your pack include Miss September, RMEF Cow Elk, and the Back Country Elk. These elk decoys, with stakes included, weigh no more than a couple pounds and fold down into a disk so that they take up little space in your pack. For hunters going deep into the backcountry, shaving a few ounces off your pack load may be important.
Preparation plays such a large part into the success of an elk hunt. Check your physical fitness, scout if you can, and get your head set for any situation that may arise while you're out there. Appeal to all five senses of a mature bull in the early season and you may find yourself in the moment you've prepared for.